. . . is in full flow as I type.
Despite the weather a steady flow of people, and what wonderful stalls.
Santa is still there with a few gifts left to give out.
The stalls fill the main hall and the church room.
Refreshments, from a regular 'cuppa' to mulled 'wine', cakes, pies, samoses.
The stalls offer wonderful rabnge of unique gifts - plates, glass, jewellery, cushions, paperwork and cool decorations, cards.
It is open till Four, (Sat 12 Dec) At the URC. 1 Edwards Lane, NG5 3AA
I took these pictures just before lunch.
Santa - in between children!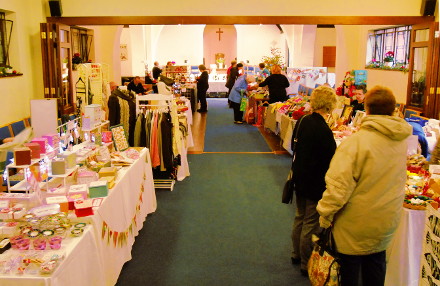 Stalls in the church

   Churches once were the centre of the community,
   and used for many community events
   until the Victorians decided that was not spiritual enough
   and fill churches with pews!
 
Just before I sat down for Lunch in the Hall
- Samosa, Mince-pie, Jam Tart and Tea
surrounded by Nine of the Ninteen stalls

Some of the refreshments
Served by Lianne.
Submitted by ichthus on Sat, 12/12/2015 - 13:13